How Does UVC LED Kill Microorganism?
Features of Clyn UVC Light CPAP Hose Cleaner
Disinfects the inside of CPAP hose by powerful 275nm deep ultraviolet light;
Eradicates up to 99% of bacteria, virus and mold in 180 seconds;
Chemical-free, no delays to use your CPAP hose;
Long last battery. Rechargeable battery provides approx. 80 sanitizing cycles with a single charge;
Works with most brands of CPAP hose and is easy to travel with, hard case included.
How UVC1 Works?
UVC1 CPAP hose cleaners works by emitting high energy light within a narrow spectrum referred to as UV-C.
It relies on high powered germicidal UV-C LEDs designed to produce the highest amounts of UV energy, where 99% of energy is generated around 275nm.
This light is very close to the peak of the germicidal effectiveness curve of 265nm, the most lethal wave to microorganisms.
The dose of UV-C emitted in 3 minutes cycle is sufficient to kill most bacteria and mold on the hose's surface.
The use of UV-C is environmentally friendly, leaving no residue or toxic gases or chemicals.
UV-C systems are currently used to disinfect operating rooms, ambulances, emergency service vehicles, and other high-touch areas.
What You Get
1 UVC1 Hose Sanitizer
1 USB Cable
1 A/C Charger
1 Travel Case
1 Protection Cloth
1 User Manual
1 Year Warranty

30-Day Money-Back Guarantee
Customer Reviews
MH
03/27/2021
Michael H.

United States
Easy to use and I think it works!
This snaps on CPAP hoses and with a press of the button, uses UV light to sterilize the inside of the hose. Unfortunately, my new CPAP machine uses a hose with a right angle connection and therefore, the UV light may not reach as far into the hose as possible from one end of the hose. Like other products, including those using ozone, there is no way to tell for sure if it works. The UV light does come on for 3 minutes. My guess is that an ozone cleaner might be better for my hose. It's easy to charge and the battery has a long life.
12/17/2020
Ben S.

United States
Easy to use.
This hose sanitizer is so easy to use . Just attach your hose to the unit and it will run its cycle! It's less than 15 minutes , you can even do it before going to sleep. I highly recommend this !! I work for DME company and I will recommend this to my patients. It's inexpensive but effective!!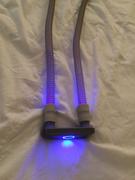 Portable UV Light CPAP Hose Cleaner | Clyn UVC1
Our goal is to offer you the best shipping options, no matter where you live. We deliver to hundreds of customers across the world every day, and we strive to provide you with services of the highest level. All CPAP cleaners will be shipped from US warehouse.
The time frame of an order delivery is divided into two parts:
Processing time: 1-3 Business Day
Shipping time: Express Delivery 3-7 Business Day
All orders will be dispatched within 3 days and completed within 7-10 business days, with the exception of holidays.
Worldwide Free Shipping!
Tracking information is provided via email upon fulfillment.