Why Choose SolidCLEANER CPAP Cleaning Machine?
The SolidCLEANER is a portable and rechargeable CPAP/BIPAP sanitizer with convenient use and rapid cleaning at home or traveling.
You can use SolidCLEANER for an easy way of sanitizing your CPAP equipment and accessories when you are tired of cleaning your CPAP mask and hose manually.
✔Automatic CPAP Sanitizer: No complicated assemble procedures and easy setup within 1 minute. Then you could clean your sleep apnea machine and all accessories at one step with SolidCLEANER. One button start and auto shut-off;
Tips: The SolidCLEANER has optimized its sanitizing cycle to 20 or 30 minutes that generates enough time for activated oxygen sanitizing and fresh air blowing in to reduce the ozone odor left in the last stage.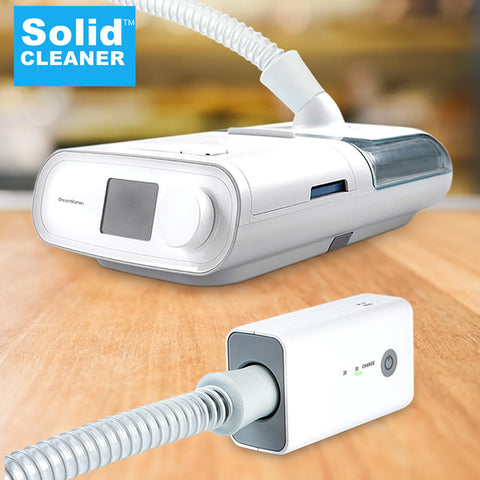 ✔Ultra-Clean: Solidcleaner is built in an ozone generator that produces ozone to kill the germs and pathogens in your CPAP hose, mask, and sleep equipment machine & reservoir. Say goodbye to messy liquids and chemicals. Fast and new CPAP cleaning method.
✔High-Capacity & Rechargeable Battery: Built-in 2600mAh high-capacity battery provides approximately 8 cleaning cycles with a single charge.
Highlights: No maintenance is required.  Other CPAP cleaners on the market usually offer 4-6 cleaning cycles. Solid CPAP cleaner could power for months.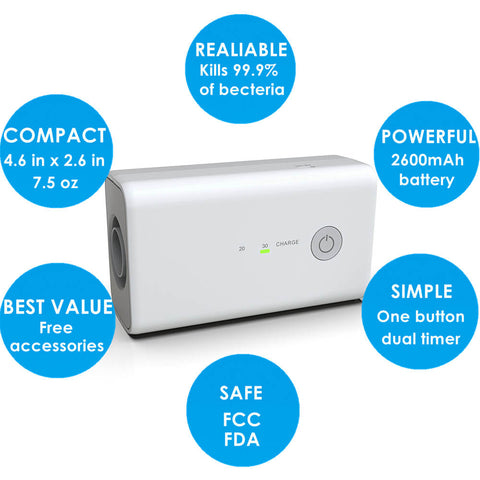 ✔Universal Design & Compatible with All Sleep Equipments. Includes Everything Required, No Recurring Costs. (Compatible with AirSense 10, S9, DreamStation, and System One). For more information, please check our compatibility list below.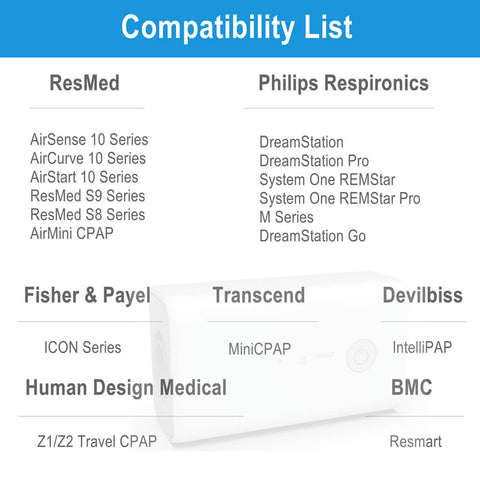 ✔Compact & Portable Cleaning Machine: 4.6X 2.6 inches, 7.5 oz. Perfect for both home and travel use;

✔Clean CPAP and Accessories Simultaneously: The T-shaped adapter included enables you to clean your CPAP, mask, hose, and water chamber with one click. No more waiting, Solid makes cleaning easier.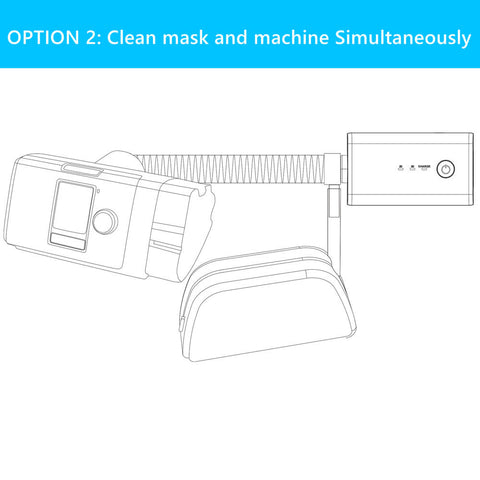 ✔The Package Includes All You Need: CPAP cleaner, Sanitizing bag, New Heated hose adapter, AirMini adapter, USB charging cable, and AC adapter.

What You'll Get
SolidCLEANER CPAP Cleaning Machine;
SolidCLEANER Sanitizing Bag;
SolidCLEANER T-adapter
User Manual;
USB Charger Cable;
Power Plug;
Adapter & Connector
Why Choose Topcpapcleaner?
✔30 Days no-risk money-back guarantee
✔12 months free replacement policy
✔18 months parts manufacturer warranty

✔US/CA local warehouse free shipping

✔Professional and prompt customer service
✔Give us a chance and we will surprise you. Get yours now!
How to use SolidCLEANER? Check the review video below: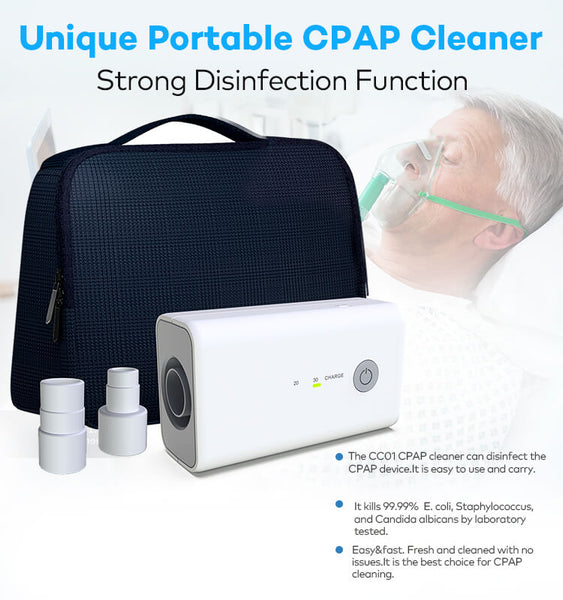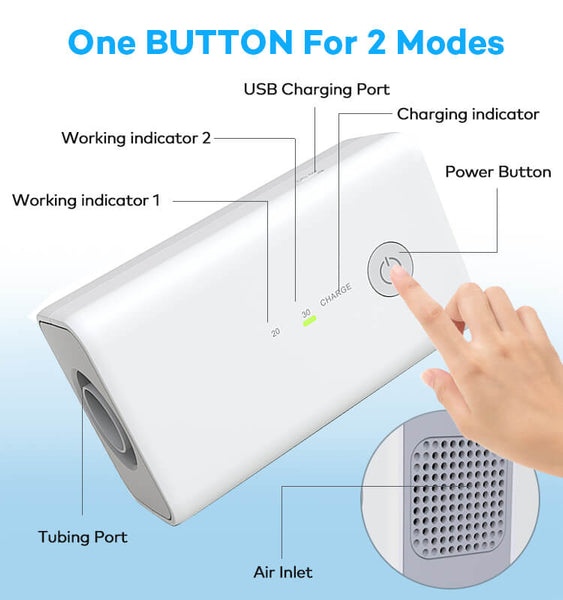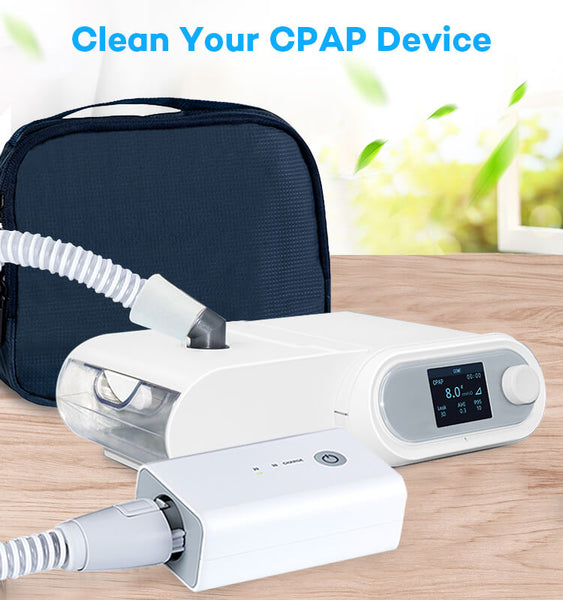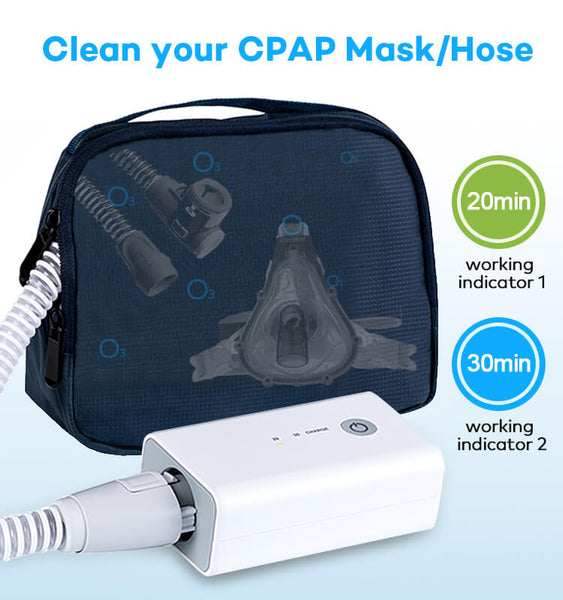 Will this work with Res Med cpap machine?
Hello, this works with all Res Med cpap/bipap machines. There are two methods to clean water chamber, one requires a special "T" connector, the other requires two cycles. One for mask the second for tank.
Is this compatible with the resmed s7 cpap machine?
I would think so. It's got different fittings.
Does this cleaner work on the newer phillips respironics dreanstation cpap machine? i cannot hook-up the mask and cpap heated tubing at the same.
Works fine. Disconnect the mask at the elbow on the top of the head. Place the head mask into the zipper cloth bag along with the narrow hose attached to the 90 degree hose adapter you connect to the end of the heated hose that is connected to the dream station. When you turn on the cleaner, it will blow into the dream station as well as the zippered bag cleaning both the mask as well as the dreamstation at the same time. Works fine for me. (Do not have the DreamStation running)
How about your warranty on this CPAP sanitizer machine?
We offer 12 months free accessories replacement and 18 months parts manufacturer warranty.
Is the CPAP sanitizing system lab tested and approved?
The LEEL portable CPAP sanitizer system is independently lab tested and approved. It also has FDA registration. It is clinically proven that the sanitizer can remove 99.99% of all germs, bacteria, and pathogens from CPAP/ BIPAP equipment.
One-Click Ozone CPAP Cleaner and Sanitizer Bundle | SolidCLEANER
Our goal is to offer you the best shipping options, no matter where you live. We deliver to hundreds of customers across the world every day, and we strive to provide you with services of the highest level. All CPAP cleaners will be shipped from US warehouse.
The time frame of an order delivery is divided into two parts:
Processing time: 1-3 Business Day
Shipping time: Express Delivery 3-7 Business Day
All orders will be dispatched within 3 days and completed within 7-10 business days, with the exception of holidays.
Worldwide Free Shipping!
Tracking information is provided via email upon fulfillment.