✅LEEL CPAP Cleaner and Sanitizer with Heated Hose Adapters Package 2021. Now clean your sleep machine, CPAP mask, CPAP tube and water chamber simultaneously.

✅Activated oxygen (ozone) CPAP cleaning system; LEEL CPAP cleaner kills germs via the power of activated oxygen (ozone). The ozone could reach every corner of your CPAP device and accessories, killing 99% of germs and bacteria! No water, no chemical and fast cleaning.

✅Odor-reducing technology: LEEL CPAP cleaning device helps reduce the unpleasant smell from the mask, tubing, and water reservoir. The 2 speed fans will blow fresh air through in the last 10 minutes of the cleaning cycle.

Still worry about the odor of ozone?

Check our newest CPAP cleaning machines with carbon filters!
✅Portable CPAP cleaning machine: 4.7 x 1.95 x 1.95 inches, travel CPAP cleaning machine in the palm of your hand;
✅No water cleaning solution; Count down timer; Sanitize in 20/30 minutes;
✅Rechargeable battery: 8+ cleanings on a single charge;

✅Compatible with all CPAP models; 2 connectors included in the package;


✅Fast delivery: US local stock

✅Buy with confidence: 30 Days no-risk money-back guarantee, 12 months free replacement policy, 18 months parts manufacturer warranty.

What You Will Get?
LEEL CPAP Cleaning Machine
LEEL Sanitizing Bag
LEEL T-adapter
User Manual
USB Charger Cable
Power Plug
Adapter & Connector
Clean the CPAP mask and tube only? Check this: LEEL O3 model
Check the popular CPAP cleaners comparison chart, please click the following link:
Ozone CPAP Cleaner comparison table
Why Us:
Professional manufacturer of oxygen therapy products. More than 100,000 happy customers.
All accessories included. Compatible with most CPAP/BiPAP machines
18 months risk-free manufacturer warranty
US/HK local warehouse delivery
Professional and prompt customer service
Monthly free accessory giveaway activity
Give us a chance and we will surprise you. Get yours now!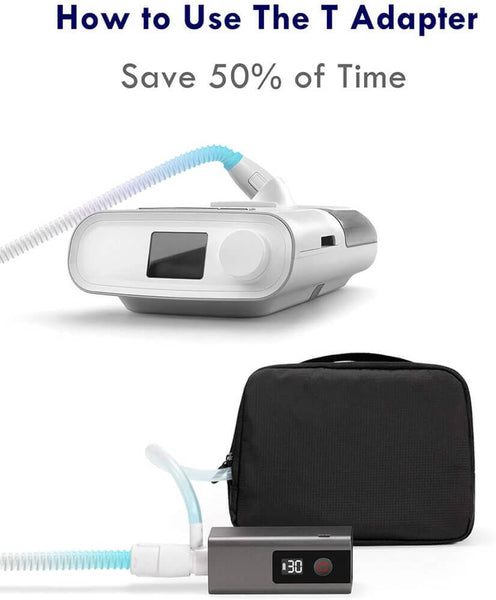 What You Get
1* Portable Cleaner
1* Travel Bag
1* T Adapter
1* Heated Hose Adapter
1* AirMini Hose Adapter
1* USB Charging Cable
1* AC Charger
1* User Manual
Top CPAP Cleaner and Saniti...


$79.99
One-Click Ozone CPAP Cleane...


$89.99